Hamburg
Economically and culturally, Hamburg is the centre of Northern Germany. 3.5 milion people live in this metropolitan region, which offers a rich cultural life. Hamburg alone has 31 theatres, 6 music halls, 10 cabarets, and numerous state and private museums.
Places to see, things to do—CORPES13 for accompanying persons
Interesting and helpful information about Hamburg can be found at:
In addition, we took the freedom of selecting and adding some suggestions for some specific areas of interests. Please note that the list is not at all exhaustive!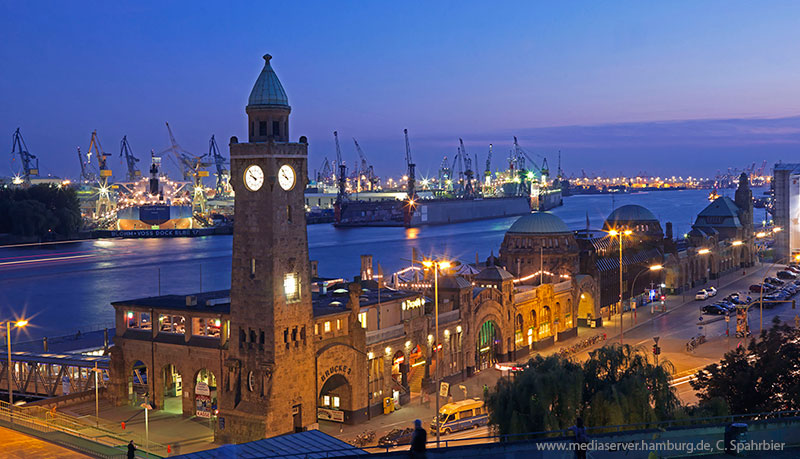 Harbour of Hamburg
Port of Hamburg
The history of Hamburg is closely related to the development of its port. General information about the Port of Hamburg and its functioning can be found (in 7 languages, also including an overview of vessels currently in the harbor) under:
HafenCity Hamburg
A new downtown is growing: HafenCity— currently Europe's largest inner-city development project—is a blueprint for the development of a European city on the waterfront.
A presentation of everything currently happening between the Elbe bridges and Kehrwiederspitze promontory is on view in the InfoCenter in Kesselhaus.
Am Sandtorkai 30, 20457 Hamburg
Art exhibitions and museums
International Maritime Museum
Precious ancient paintings, model ships, instruments and exhibits related to navigation and marine research are on display in the privately owned International Maritime Museum.
Kaispeicher B, Koreastrasse 1, 20457 Hamburg
Ballin-Stadt Emigration museum
The Ballin-Stadt Emigration museum is dedicated to the five million European emigrants who travelled to America between 1850 and 1934 hoping for a better future overseas. The exhibition focuses on their travelling and living conditions. Furthermore, visitors have access to the information contained in the lists the passengers setting off from Hamburg at that time. A genealogical database is also accessible from the museum research centre.
Veddeler Bogen 2, 20539 Hamburg
S-Bahn station "Veddel" (lines S3 and S31)
Hamburger Kunsthalle
The valuable collection of the Hamburger Kunsthalle ranges from XIV century painting to contemporary art.
Glockengießerwall 20095, Hamburg
Bucerius Kunst Forum
The Bucerius Kunst Forum (next to the Town Hall) is mainly dedicated to temporary exhibitions—at the time of the meeting, works of Alexander Rodtschenko (1891-1956), one of the major actors of the Russian Avantgarde, will be on display.
Rathausmarkt 2, 20095 Hamburg
Jenisch Haus and the Ernst-Barlach Haus
The Jenisch Haus and the Ernst-Barlach Haus are little jewels and not too far from the workshop venue.
The Jenisch Haus was built between 1831 and 1834 in neo-classical style and belonged to the Hamburger merchant and senator Martin Johann Jenisch. The interiors still witness of Empire and Biedermeier styles of that time. The museum hosts temporary exhibitions mainly related to art and culture in the 19th century.
The Ernst-Barlach-Haus was built in the 60s and is currently a private museum containing key works by the expressionist sculptor, graphic artist and writer Ernst Barlach (1870—1938)
Both small museums are not too far from the Elbe river and set in the Jenisch park—which is also worth a visit, not only on sunny Summer days
Near S-Bahn station "Klein Flottbek" (lines S1 and S11)
www.altonaermuseum.de/jenisch_haus.html (in German only!)
Altonaer Museum
The exhibitions at the Altonaer Museum give an overview of art and cultural history in Northern Germany over a few centuries.
Museumstraße 23, 22765 Hamburg
S-Bahn station "Altona" (lines S3, S31, S1, S11)
www.altonaermuseum.de (in German only)
Other places of interest
Hagenbeck Zoo
Hagenbeck zoo is one of the most famous zoos in Germany and is located in a beautiful park— also including a recently re-designed polar landscape section. The tropical aquarium can be visited separately.
Lokstedter Grenzstraße 2, 22527 Hamburg— U-Bahn station "Hagenbecks Tierpark" (line U2)
Model railway museum—Miniatur Wunderland
Miniatur Wunderland is an amazing permanent exhibition for all those who are fond of model railways and miniature landscapes—-with or without kids.
Kehrwieder 2-4, Block D— Speicherstadt
Botanic Garden Hamburg
Free admission, opening times: daily from 9:00 a.m. to about 1 1/2 hours before sunset.
Ohnhorststraße, 22609 Hamburg
S-Bahn station "Klein Flottbek" (lines S1 and S11)
Special events in Hamburg in 2013
The 2013 international garden show (IGS) takes place in the south of Hamburg from 26 April to 13 October 2013—and enables visitors to go "around the world in 80 gardens".
Directly close to the S-Bahn station "Wilhelmsburg" (lines S3 and S31).
Furthermore, the 2013 international architecture exhibition IBA including a variety of projects on different themes takes place in in the south of Hamburg from 23 March 2013 to early 2014.